List your property today!
Inclusion of real estate listings at Costa Rica Guide is
absolutely free of charge.
Featured Properties
Costa Rica Guide - Costa Rica Real Estate
Wal-Mart Costa Rica Operations
| | |
| --- | --- |
| Costa Rica Fact Sheet | |
| June 2006 | |
| Pali | 95 |
| Max X Menos | 23 |
| Maxi Bodegas | 6 |
| Hiper Más | 4 |
| Associates | 6,990 |
Wal-Mart Central America
In September 2005, Wal-Mart acquired a 33 1/3 percent interest in CARHCO from the Dutch retailer Royal Ahold NV. In March 2006, Wal-Mart increased its interest to 51% and the name CARHCO was changed to Wal-Mart Central America.
Wal-Mart Central America is the region's largest retailer, with 363 supermarkets and 23,000 associates in Guatemala, El Salvador, Honduras, Nicaragua and Costa Rica.
Wal-Mart Central America has three operative companies: La Fragua, founded in Guatemala in 1928 by Carlos Paiz Ayala; CSU, founded in Costa Rica in 1960 by Enrique Uribe Pages; and Corporación de Compañías Agroindustriales (CCA), a supplier of meat and seafood, fruit, grain, vegetables and bakery products.
Expansion Plans
Wal-Mart Central America plans to open 8 new stores in Costa Rica in 2006.
Awards and Recognition
CSU received the Community Contribution Award from the Costa Rican-American Chamber of Commerce for being a socially responsible company that supports important community initiatives. The company also received the Ecological Banner, a recognition given by the Costa Rican Government to environmentally friendly companies.
Community Involvement
In 2005, CSU raised and contributed over $1 million to support local communities in Costa Rica. Stores across the country helped raise funds to support disaster relief programs, education grants and scholarships and Dulce Ayuda, a program that supports the health and education of children.
Environmental Initiatives
Wal-Mart Central America is committed to reducing the company's footprint on the environment. The stores in Costa Rica participate in recycling, energy conservation and residual water treatment programs. CSU's distribution center recycles over 9 tons of cardboard each day. The company also supports a PET plastic recycling program at La Hondura School and has an associate volunteer program for environmental initiatives.
Images of Wal-Mart's Costa Rica operations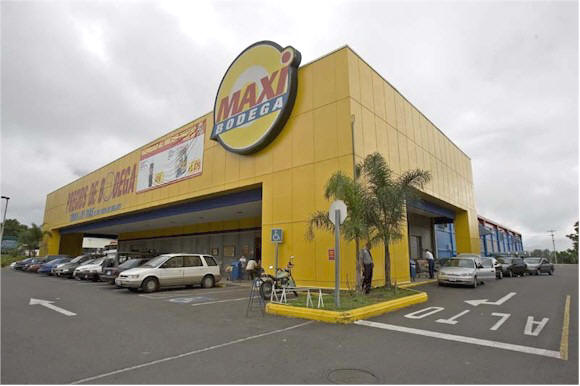 Maxi Bodegas are warehouse stores with an average size of 21,500 square feet. There are five Maxi Bodegas in Costa Rica.
Copyright 2006
Note: The above information is not to be used for any other purpose other than private study, research, criticism or review. Thank you.
Costa Rica Guide - Costa Rica Real Estate
Costa Rica, come visit and stay!